2023 FIFA Women's World Cup Bracket: Printable & Current Format
Here you get the FIFA Women's World Cup 2023 Bracket. It's current Format and how does it work? You can also download the World Cup Bracket in pdf, image and printable versions here:
Printable Women's World Cup Bracket 2023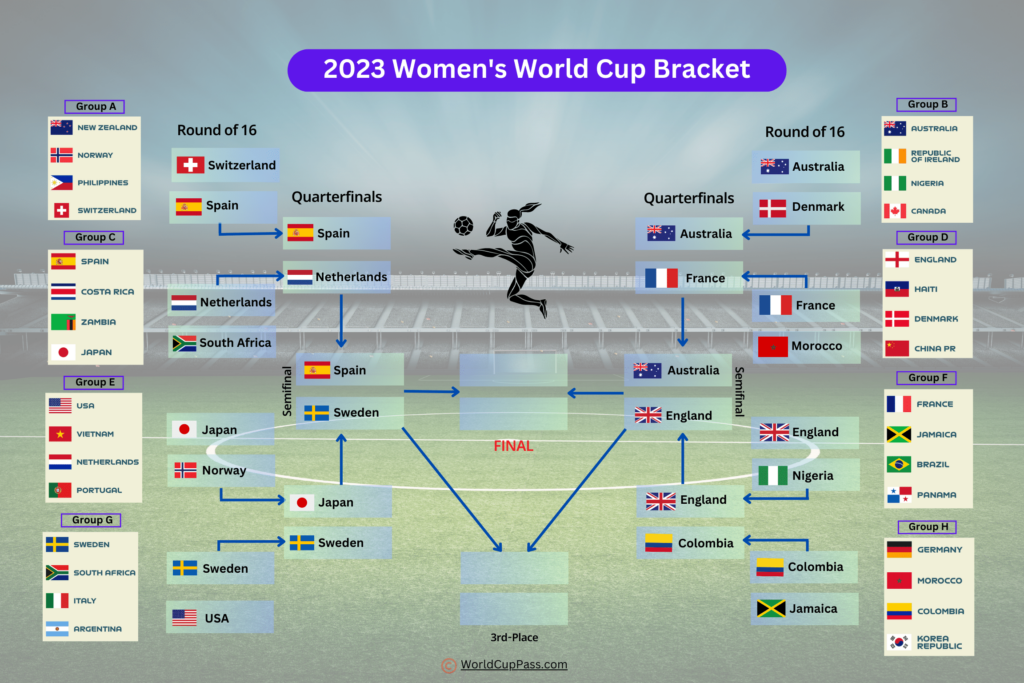 You can download the knockout stage Printable and Blank Bracket for FIFA World Cup 2023 from below:
You need to know some basic terms to understand the world cup bracket quickly:
The Women's World Cup will feature 32 participating nations for the first time in history. The tournament, which started with just 12 teams in 1991, saw an expansion to 16 nations at the 1999 edition held in the United States and further grew to 24 teams in the 2015 tournament held in Canada.
Here is the final list of nations who are slated to play in Australia & New Zealand:
Group A: New Zealand, Norway, Philippines, Switzerland
Group B: Australia, Republic of Ireland, Nigeria, Canada
Group C: Spain, Costa Rica, Zambia, Japan
Group D: England, Haiti, Denmark, China
Group E: USA, Vietnam, Netherlands, Portugal
Group F: France, Jamaica, Brazil, Panama
Group G: Sweden, South Africa, Italy, Argentina
Group H: Germany, Morocco, Colombia, Korea Republic
Here is each round/stage date:
Group stage: July 20-August 3
Round of 16: August 5-8
Quarterfinals: August 11-12
Semifinals: August 15-16
3rd-place match: August 19
World Cup Final: August 20
Also Check:
How Does the Women's World Cup Bracket Work?
There are 32 teams divided into eight groups. Each group has 4 teams. Before the Round of 16, 48 matches will be played on the group stage. The top 2 teams from each group will reach the next Round of 16. It is a single-elimination contest.
From the Round of 16, 8 teams will compete in Quarterfinals and four winning teams go to the Semifinals and losers teams will play in WC 3rd Place Match and the Winners teams will battle for the FIFA Women's World Cup Final 2023.