Costa Rica World Cup Squad 2022: Costa Rica team Final Roster
Luis Fernando Suarez has hinted at who may play in the World Cup exhibition game in September 2022.
Luis Fernando Suarez has hinted at a few possible berths on Costa Rica's World Cup roster in 2022.
Costa Rica will prepare for Qatar by playing games against South Korea and Uzbekistan this month.
Suarez's side defeated New Zealand in the intercontinental playoffs in June.
Costa Rica has qualified for the World Cup for the third year in a row (and a sixth overall).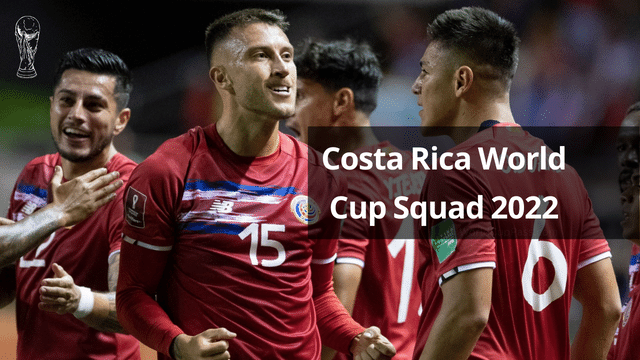 Costa Rica 2022 World Cup Squad (Final Roster)
Luis Fernando Suarez announces his final Squad on Thursday, November 3. Below is the Final 26-man Costa Rica World Cup squad:
Position
Player
Club
Age
Caps
Goalkeeper
Esteban Alvarado
Herediano (CRC)
33
24
Goalkeeper
Keylor Navas
PSG (FRA)
35
107
Goalkeeper
Patrick Sequeira
CD Lugo (SPA)
23
2
Defender
Francisco Calvo
Konyaspor (TUR)
30
75
Defender
Daniel Chacon
Colorado Rapids (USA)
21
8
Defender
Oscar Duarte
Al-Wehda (SAU)
33
70
Defender
Keysher Fuller
Herediano (CRC)
28
29
Defender
Carlos Martinez
San Carlos (CRC)
23
5
Defender
Ronaldo Matarrita
FC Cincinnati (USA)
28
52
Defender
Bryan Oviedo
Real Salt Lake (USA)
32
74
Defender
Juan Pablo Vargas
Millonarios (COL)
27
11
Defender
Kendall Waston
Saprissa (CRC)
34
61
Midfielder
Brandon Aguilera
Nott'm Forest (ENG)
Guanacasteca (CRC)
19
4
Midfielder
Jewison Bennette
Sunderland (ENG)
18
7
Midfielder
Celso Borges
Alajuelense (CRC)
34
154
Midfielder
Anthony Hernandez
Puntarenas (CRC)
21
2
Midfielder
Douglas Lopez
Herediano (CRC)
24
2
Midfielder
Bryan Ruiz
Alajuelense (CRC)
37
144
Midfielder
Youstin Salas
Saprissa (CRC)
26
3
Midfielder
Yeltsin Tejeda
Herediano (CRC)
30
73
Midfielder
Gerson Torres
Herediano (CRC)
25
12
Midfielder
Roan Wilson
Grecia (CRC)
20
2
Midfielder
Alvaro Zamora
Saprissa (CRC)
20
2
Forward
Joel Campbell
Club Leon (MEX)
30
118
Forward
Anthony Contreras
Herediano (CRC)
22
8
Forward
Johan Venegas
Alajuelense (CRC)
33
80
Also Check: Costa Rica World Cup Schedule 2022
FIFA World Cup 2022 Costa Rica Team Preview
Costa Rica qualified for the World Cup by defeating New Zealand 1-0 on Tuesday. Joel Campbell scored in the third minute to help Costa Rica overcome New Zealand despite using only 10 men in the last 20 minutes of the game.
Despite having a few stars on its roster, most people do not believe Costa Rica will win the World Cup in Qatar this year.
They may be confident in their abilities to pull off another upset because they retained several key players from their 2014 World Cup team.
Costa Rica's World Cup team is devoid of stars. You never know, they could yet surprise you with their knowledge of the World Cup.
Joel Campbell and Keylor Navas were members of the 2014 squad that advanced to the quarterfinals after defeating Italy, England, and Uruguay.
Our Prediction about Costa Rica at FIFA World Cup 2022
Costa Rica has the third-worst probability of winning the World Cup in 2022, after only Saudi Arabia and Iran.
Peru, which won the tournament the year before, lost in the group stage but advanced to the final game due to winning the intercontinental play-off.
Spain, Germany, and Japan are three of the world's finest teams, and they're all in Group E.
Costa Rica has a lot of work to do, and it appears like they will not be able to move on from their group.
Costa Rica has an excellent chance of progressing based on their performance in the qualifying round.
There will be sixteen teams left after the following round.
Uruguay, England, and Italy were in the same group as Costa Rica in 2014. Costa Rica topped their group and advanced to the quarterfinals.
Some members of the 2014 national squad will return for the tournament in Qatar. But still, it will be struggle for the team.
When is Costa Rica World Cup squad announced?
This year's World Cup is the first to take place at the end of the year, running from November 20-December 18.
As well as their crucial play-off victory, Costa Rica also got their 2022-23 CONCACAF Nations League campaign underway in June, defeating Martinique and losing to Panama.
Pre-tournament friendlies should help Suarez fine-tune his final squad, which would usually be announced around six weeks before the tournament starts.
That may change with club football being played closer to the beginning of the World Cup than normal, though.
How many players will be in Costa Rica's World Cup squad?
Because of the COVID-19 epidemic that occurred last summer, only 26 players from each country were able to compete in the European Championship.
How Many Football World Cups has Costa Rica won?
Costa Rica is the only Central American country to have competed in five FIFA World Cups.
But they've never won World Cup.
If you're rooting for Costa Rica, you will surely wonder how far the team will go.
Make sure to bookmark this page for news and updates.