2022 FIFA World Cup Serbia Schedule: TV Channel, Live Stream, Preview
Following for Serbia national team for World Cup 2022? They have made it as the qualified team! While it is great news for all of the fans, it is just only the beginning. Let's see what the challenges the team has to face.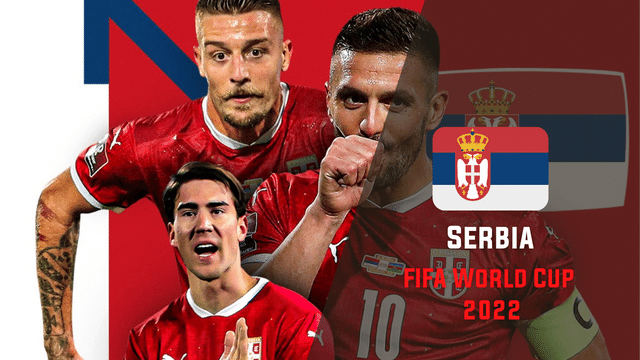 2022 World Cup Serbia Schedule/Fixtures
Here are the match dates and start times according to Serbian time:
| Match | Date | Time (CEST) | Venue |
| --- | --- | --- | --- |
| Brazil vs. Serbia | Thursday, Nov. 24 | 8:00 PM | Lusail Stadium |
| Cameroon vs. Serbia | Monday, Nov. 28 | 11:00 AM | Al Janoub Stadium |
| Serbia vs. Switzerland | Friday, Dec. 2 | 8:00 PM | Stadium 974 |
Which Channel will Coverage World Cup 2022 in Serbia?
If you travel or live in Serbia, you could tune into RTS to watch World Cup 2022.
World Cup 2022 Serbia Group & Preview
Serbia enters Group G of the 2022 World Cup, which also includes the world's top-ranked squad Brazil, Switzerland, and Cameroon.
Brazil, Switzerland, and Serbia were all in the same group at the previous tournament, so they are all familiar with this one.
Serbia failed to qualify for the 2020 European Championship, but they did qualify for the 2022 World Cup in Qatar by winning and remaining undefeated in a challenging qualification group that included Portugal. In truth, the Balkan nation's victory over Cristiano Ronaldo and co. in late November qualified them for the draw automatically.
In addition to Dusan Tadic's creative flair and years of experience, the club has two other potent offensive options in Aleksandar Mitrovic and Luka Jovic. The other teams in the group will most likely struggle as a result of this partnership. They have the ability to astound a large number of people if they continue to play as a team.
Dragan Stojkovic, a former Red Star Belgrade player, had led Serbia to only two defeats since taking over as head coach in March of the previous year, making them a tough opponent.
Serbia has been outstanding in the European Qualifying Tournament, going unbeaten in its previous eight games. As a consequence, they forced Portugal into the playoffs and earned automatic qualification.
The attacking approach will center on Aleksandar Mitrovic, who had eight goals in UEFA qualification. Mitrovic is tied for fourth place overall in this tournament.
Serbia stunned European superpower Germany in the group round of the 2010 tournament, causing a stir.
The country's only victory in the competition since then came four years ago in Russia against Costa Rica. It has since lost to Brazil and Switzerland, results it hopes to rectify this time.
Other teams, including Switzerland, are purposefully deceiving the Brazilians. Serbia displayed its ability to shock a footballing giant by defeating Germany in 2010. They astonished everyone by placing first in their World Cup qualification group, ahead of Cristiano Ronaldo's Portugal.
Aleksandar Mitrovic's goal in Lisbon proved to be the deciding factor in their triumph. This season, Fulham's striker scored the most goals in the league, powering the side to the top of the Championship and assuring promotion to the Premier League. Serbia's other goal came from Dusan Tadic in the encounter against Portugal, and if the Ajax star continues to play well, Serbia has a chance to win the tournament.
Serbia FIFA World Cup History
Serbia took part in the FIFA World Cups in 1930, 1938, 1950, and 1990 as a member of the Kingdom of Yugoslavia and the Socialist Federal Republic of Yugoslavia.
Serbia and Montenegro shared the field for a decade, beginning in 1994 and ending in 2006. Serbia has been a sovereign state since 2006. All of Yugoslavia's records were handed to the Serbian national team in accordance with FIFA's decision.