FIFA World Cup Cameroon Schedule: TV Channel, Preview, History
Cameroon will make appearance in the World Cup 2022. If you've been rooting for the nation, it should be a pleasant experience for you and your fellow soccer fans. Here we are going to share you the groups, schedule, TV channel, and preview. Bookmark this page for updated information.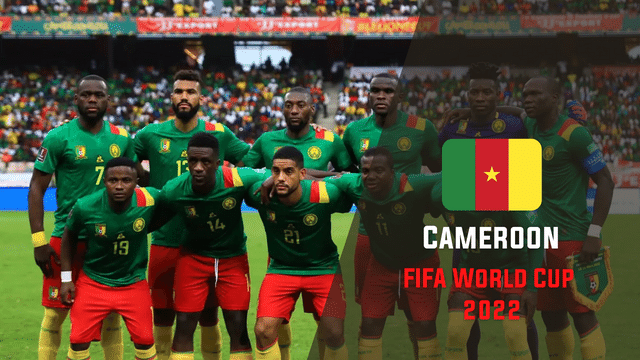 2022 World Cup Cameroon Schedule/Fixtures
Here are the match dates and start times according to Cameroon time:
| Matchup | Date | Time (WAT) | Venue |
| --- | --- | --- | --- |
| Switzerland vs. Cameroon | Thursday, Nov. 24 | 11:00 AM | Al Janoub Stadium |
| Cameroon vs. Serbia | Monday, Nov. 28 | 11:00 AM | Al Janoub Stadium |
| Cameroon vs. Brazil | Friday, Dec. 2 | 8:00 PM | Lusail Stadium |
Which Channel will Coverage World Cup 2022 in Cameroon?
You can watch World Cup 2022 in Cameroon through SuperSport and New World TV.
Also Check: FIFA World Cup 2022 Live Stream Guide
World Cup 2022 Cameroon Group & Preview
Cameroon enters Group G of the World Cup 2022 with Brazil, Serbia, and Switzerland.
After overcoming Algeria in the World Cup playoffs, Cameroon will enter the match with confidence and resolve.
Cameroon qualified for the World Cup for the first time since 2014 after a thrilling winner-take-all victory against Algeria in late March. Cameroon qualified for the title match with this victory.
After seven World Cup appearances, the Indomitable Lions will have their first chance in Qatar to construct a seasoned lineup capable of making significant contributions. Given that both Vincent Aboubakar and Eric Maxim Choupo-Moting are seasoned international players, their performances are expected to be spectacular.
Cameroon reached the quarterfinals of the 1990 World Cup in Italy. After finishing third in the Africa Cup of Nations, Rigobert Song, a colorful coach who played for Liverpool and appeared in four World Cups, is sure that his team will go to the knockout rounds. Cameroon reached the quarterfinals of the 1990 World Cup in Italy.
Cameroon has participated in more FIFA World Cups than any other African country, and it finished third in the 2021 African Cup of Nations.
In the 1990 World Cup group stage, the team astonished everyone by upsetting the defending champion, Argentina. When it encounters Brazil in Qatar, it will be looking for a repeat performance.
On July 9, 1990, Milan, Italy hosted the first match of the 1990 World Cup Football Championship. Francois Omam Biyik scored Cameroon's game-winning goal. The game was held in Milan, Italy.
Brazil is the only team in Cameroon's group with previous World Cup experience. Brazil has won all three of these competitions.
Cameroon has not advanced past the round of 16 since 1990, when it reached the quarterfinals.
Cameroon's performance in the 1990 World Cup is likely to be remembered by a specific age group. The declaration that veteran striker Roger Milla, 38, will be their major player startled the football world. Despite losing their first match, the Diego Maradona-led Argentine squad advanced to the semifinals, thanks in great part to the aid of "super sub" Roger Milla in victories against Romania and Colombia. England were ousted from the World Cup quarterfinals due to Gary Lineker's two penalties in extra time.
Since then, the profitability of the Indomitable Lions' investments has declined. They have never advanced past the group stage in their subsequent 15 matches.
Despite Algeria's heartbreaking World Cup exit, Rigobert Song's players will be eager to create a positive first impression in Qatar.
Even if the teams in Group G have a fair chance of stunning Group A at the 2022 FIFA World Cup in Qatar, Brazil will remain a force to be reckoned with.
Cameroon FIFA World Cup History
Cameroon has been in eight FIFA World Cup finals since their debut in 1982. They finished fifteenth in the competition after drawing all three of their group games. Cameroon reached the World Cup quarterfinals in 1990 before falling 3-2 to England. Roger Milla, 42 years old at the time of the 1994 FIFA World Cup, created history by competing in the finals.
He also scored in this competition, making him the all-time leading scorer. Despite the fact that Colombia's Faryd Mondragón broke Milla's previous record in 2014, Milla is still the oldest player to score in a FIFA World Cup final. In 2022, Cameroon enters group G with Brazil, Switzerland, and Serbia. It is going to be a tough experience for the team.
It will be their sixth meeting in the final game when Qatar hosts the FIFA World Cup in 2022.