How to Watch FIFA World Cup in Canada? TV Info, Live Stream
Canada has a huge fans base of soccer sport. If you are one of them, we are glad that you've come here. In this page, we are going to show you the information about watching FIFA World Cup 2022 in Canada including the TV channel and live stream options.
FIFA World Cup 2022 in Canada: Date and time
It is scheduled to take place in Qatar from 20 November to 18 December 2022. The first match of the event will take place at 8 AM PST-8. Check the Canadian Team FIFA World Cup Schedule.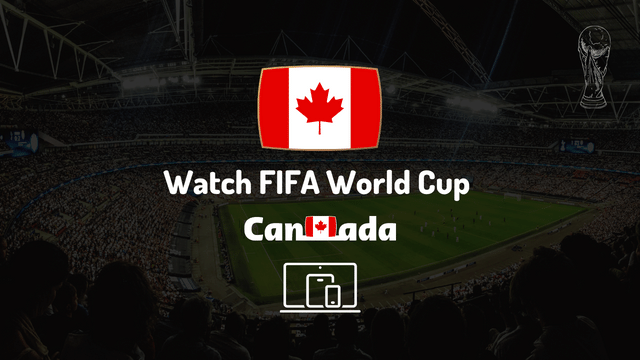 Which channel can I Watch FIFA World Cup 2022 in Canada?
TSN will telecast FIFA World Cup 64 matches in Canada. According to the officials, Bell Media has claimed ownership to broadcast the FIFA World Cup 2022. The TV channels from Bell Media to tune are TSN1 and TSN2.
How to Watch Qatar World Cup 2022 live stream in Canada?
The FIFA Men's World Cup will take place between November 20 and December 18, 2022. TSN1 and TSN2 broadcast the FIFA World Cup in Canada. TSN Radio, TSN.ca, and Mobile TV are all options.
There are five separate live feeds on the TSN website, but you must be a TSN1 or TSN2 subscription to see the shows. depending on the person's location You must first log in before you can access its features. Your pay television provider may be able to assist you with authentication.
If you haven't a subscription. Subscribe the TSN live stream service (TSN Direct) to watch TSN Live TV Channels on any device. The monthly Cost is $19.99 and the yearly Cost is $199.90 plus TAX.

Can I watch the World Cup live stream free in Canada?
No, you can't watch TSN free in Canada. You have to TV Provider and TSN Direct Subscription to Watch TSN Channel.
TSN members may download free applications and content at any time. TSN programming is available for free on your phone and computer thanks to Bell Media. But there's a need for authentication of credentials for some content.
How to watch World Cup 2022 outside of Canada?
If you're outside Canada, you probably experience a geo-blocking so that you can't access your service. Hence, you will need to use a good VPN service.
ExpressVPN is one such excellent service. It passed all of our tests and is currently one of the top VPNs on the market. Because of its enormous number of servers and extremely fast connection speeds, it is the best VPN for watching sports online. It provides the highest security and assistance at all times.
ExpressVPN's ability to unblock geo-blocked material is required to watch the World Cup online. Most individuals are enticed to purchase a VPN because of the 30-day return period. Three months of service are provided for free.
After reading the guide above, we hope your questions are answered. If there is anything, please comment in the comment box below. Happy watching!