2022 World Cup Australia Schedule: TV Channel, Live Stream, Preview
Australia has done it once more. Andrew Redmayne's exploits in the penalty shootout against Peru's Alex Valera in the qualification. As the result, it secured Australia's place in the 2022 World Cup.
Sixteen years ago, the Socceroos broke a decades-long drought in men's football by overcoming Uruguay in a penalty shootout to clinch their sixth consecutive trip at the sport's pinnacle event.
The pace quickens. Here are few things to know to follow Socceroos in World Cup 2022.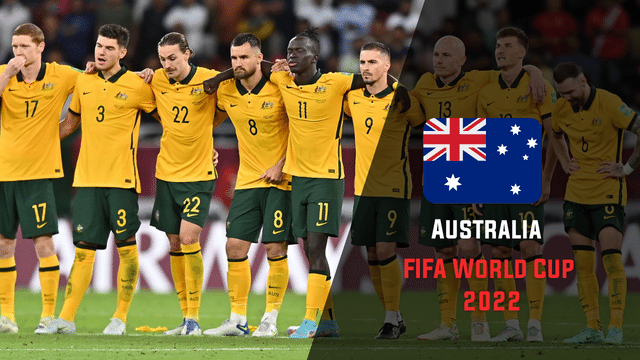 2022 World Cup Australia Schedule/Fixtures
| Matchup | Date | Time (ET) | Venue |
| --- | --- | --- | --- |
| France vs. Australia | Tuesday, Nov. 22 | 2:00 PM | Al Janoub Stadium |
| Australia vs. Tunisia | Saturday, Nov. 26 | 5:00 AM | Al Janoub Stadium |
| Australia vs. Denmark | Wednesday, Nov. 30 | 10:00 AM | Al Janoub Stadium |
When is the Match kick-off on the Australian Date & Time?
Here are the match dates and start times according to Australian time:
France vs. Australia start time is 6 AM (AEST) on Wednesday, November 23
Australia vs. Tunisia start time is 9 PM (AEST) on Saturday, November 26
Australia vs. Denmark start time is 2 AM (AEST) on Thursday, December 1
Which Channel will Coverage World Cup 2022 in Australia?
SBS will broadcast all Soccer Australia games live, free, and exclusively. SBS will show ALL 64 World Cup games LIVE and FREE in 2022. SBS will broadcast all Soccer Australia games live, free, and exclusively. SBS will broadcast live and free all 64 FIFA World Cup matches in 2022.
More than 500 hours of FIFA World Cup material will be available on SBS and SBS VICELAND. SBS On Demand will provide live streaming, match rebroadcasts, mini-matches, and more.
The new SBS Sport website, which will go live later this year, will offer Qatar 2022 highlights, interviews, video supplements, news, feature articles, and opinion pieces.
Also Check:
World Cup 2022 Australia Group & Preview
This will be the first FIFA World Cup staged in the Middle East, as well as the first to take place in the winter.
The oppressive atmosphere in Qatar influenced this decision. All eight Doha stadiums feature outdoor air conditioning to keep players and spectators cool. The average temperature in Qatar in November is 24 degrees Celsius.
France, Denmark, and Tunisia make up Group D with Australia. France and Denmark, the defending champions and current second seeds, are projected to finish in the top two and advance to the event's elimination round.
Tunisia is ranked 35th, while Australia is ranked 42nd. Australia's Socceroos defeated 2-1 to France and drew 2-2 with Denmark in the 2018 World Cup group stage. On paper, the US World Cup team is ranked higher than Australia's.
Australia's best World Cup performance occurred in 2006, when they were defeated in the final by Italy. This happened with Australia's "golden generation" as well.
Andrew Redmayne saves a penalty during the shootout.Andrew Redmayne has helped the Socceroos dance their way into the World Cup finals. To defeat it, you must put on a show and hope for the best.
Australia FIFA World Cup History
Australia qualified for six World Cups in 1974, 2006, 2010, 2014, 2018, and 2022, the most recent of which was in Russia in 2018. They competed in their only FIFA World Cup in 1966, losing to North Korea.
Australia's amateur squad drew 0-0 with Chile in its debut participation in an OFC competition. Australia advanced to the Round of 16 at the 2006 World Cup in Germany before falling to eventual winner Italy.
Australia, representing the Asian Football Confederation (AFC), was knocked out of the 2010 World Cup by Europe 4–0. After tying Ghana 1-1 and defeating Serbia 2-1, the Australians were eliminated due to goal differential. Australia lost all three of their group games at the 2014 World Cup in Brazil. But 2022 is the new hope for the Socceroos fans.