FIFA World Cup USA Schedule: TV Channel, Preview
Finally, the USA team is now in the Round of 16. They are Runner-up in Group B and their next match with the Netherlands. Though Netherlands is the favorite position but, no one can tell what is going to happen on 3rd December.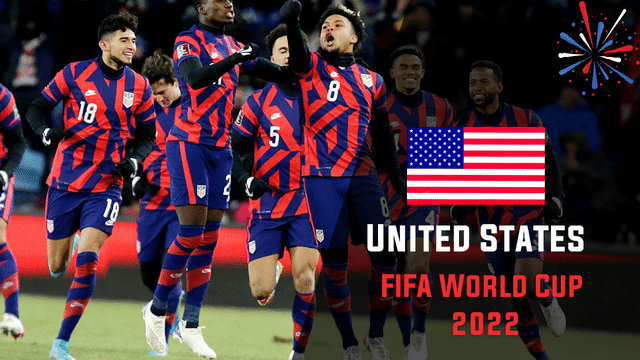 Here are what you need to know about the USA national team in the 2022 FIFA World Cup.
2022 World Cup USA Schedule
| Team | Date | Time (ET) | Venue |
| --- | --- | --- | --- |
| United States vs. Wales | Monday, Nov. 21 | 2:00 PM | Ahmad Bin Ali Stadium |
| England vs. United States | Friday, Nov. 25 | 2:00 AM | Al Bayt Stadium |
| Iran vs. United States | Tuesday, Nov. 29 | 2:00 PM | Al Thumama Stadium |
Round of 16 Schedule
| Date | Stage | Match | Time (ET) | Stadium |
| --- | --- | --- | --- | --- |
| Sat, Dec. 3 | Round of 16 | USA vs. Netherlands | 10 AM | Khalifa International Stadium |
The team is led by Christian Pulisic, who will be one of the best young American soccer players in 2022. As a result, he is one of the most exciting players to watch throughout the World Cup in Qatar. Pulisic has played in both the Bundesliga and the Premier League. He brings a plethora of knowledge to the club.
You can Check: FIFA World Cup Bracket
Which Channel will Coverage World Cup 2022 in the USA?
FOX has reserved the rights to broadcast the English-language coverage of the event in the US. In 2022, all 64 World Cup games will be airing live on Fox, FS1, and the Fox Sports app.
Fox will air most of the stories, while FS1 will air the remaining. The rest of the tournament will be shown on Fox at 10 a.m., 11 a.m., and 2 p.m.
You can also use the Fox Sports app on your favorite device to watch the live streams online from anywhere you want.
United States FIFA World Cup History
The United States men's national soccer team has played in eight World Cups. They finished third overall in their first World Cup in 1930, their best finish.
After defeating England 1-0 in group play in 1950, the United States had to wait until 1990 to reach the World Cup finals. Prior to 2014, the US has competed in every World Cup since 1990. However, their defeat against Trinidad and Tobago precluded them from participation in the 2018 tournament.
The World Cup is organized by the Fédération Internationale de Football Association (FIFA), which consists of men's national teams from FIFA member countries (FIFA). Since its start in 1930, the tournament has been held every four years, with the exception of 1942 and 1946, when World War II was in full force.
The World Cup is presently structured so that 32 teams compete for the championship over the course of a month at various sites within the host country (or nations). USA made a spectacular comeback by qualifying for the 2022 World Cup.