How to Watch FIFA World Cup in Bangladesh: Live Stream, TV Channel
Bangladesh boasts a vibrant football scene, but neither the government nor the Bangladesh Football Federation are interested in it.
Football is the most popular sport in the city, thus when the FIFA World Cup is on, Dhaka goes berserk. Despite financial difficulties and a lack of professionalism in football, federation officials and observers remain hopeful about the sport's future in the country.
And it doesn't stop avid fans from awaiting the World Cup 2022 that is nearly upon us. Fast date approaching, you could reserve the option of Watching World Cup 2022 in Bangladesh with the help of our guide.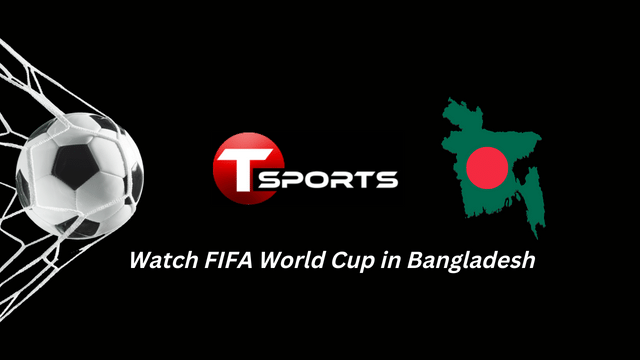 FIFA World Cup 2022 in Bangladesh: Date and time
It is scheduled to take place in Qatar from 20 November to 18 December 2022. The first game of the event starts at 10 PM BST+6.
Which channel can I Watch FIFA World Cup 2022 in Bangladesh?
T Sports is the channel to tune in. East West Media Group, a subsidiary of the Bashundhara Group, operates Bangladesh's Bengali-language sports channel T Sports.
The channel is the country's first of its type. The first T Sports HD broadcast aired on January 9, 2021. although it is relatively new, the viewers in Bangladesh have been satisfied with the quality of the service.
How to Watch Qatar World Cup 2022 live stream in Bangladesh?
Every game played in World Cup 2022 is broadcast live on this website via the T-Sports BD YouTube Channel. But in YouTube Channel, the content is usually recorded.
For live, go to TSports website or install its app.
Can I watch World Cup live stream free in Bangladesh?
Watch live World Cup 2022 free from Bangladesh by using T-Sport website or apps.
How to watch World Cup 2022 outside of Bangladesh?
While watching a game, many sports fans nowadays utilize their mobile devices to perform other things. Another option is to watch a game online. In any case, using public free WiFi might help you save money on mobile data.
Or perhaps, you are using the internet outside of Bangladesh. Then the blackout might happen. You can handle it by using a VPN service. Connect to the Bangladesh server and enjoy the game.
Verdict
You can use T-Sport service when you are in Bangladesh to watch FIFA World Cup 2022. But if you're overseas, you can still use it using VPN. There is no hard way to do this. If you want to ask something, don't hesitate to comment below.
Also Read: How to Watch Qatar World Cup 2022