How to Watch FIFA World Cup in Argentina? TV Info, Live Stream
The Argentine national soccer squad, known as La Albiceleste, has taken part in 17 of the 21 FIFA World Cup tournaments. Due to political upheaval and disputes over hosting rights, Argentina was forced to withdraw from the World Cup on three separate occasions (1938, 1950, and 1954).
Argentina national team will also participate in the FIFA World Cup 2022. Whether you are rooting the team, or simply traveling in the country, you will want to watch the spectacle from your favorite screen.
In this post, you will learn about TV channel and live stream options you could choose to watch the world cup.
FIFA World Cup 2022 in Argentina: Date and time
It is scheduled to take place in Qatar from 20 November to 18 December 2022
In Argentina, the viewers could turn their device before 1 PM ART-3 as it is the starting time of the first game in the competition.
Consider checking official page of organizer to see the complete information.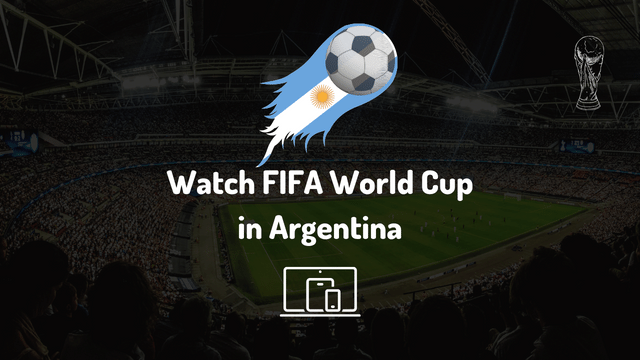 Which channel can I Watch FIFA World Cup 2022 in Argentina?
TyC Sports is the rightful broadcaster of FIFA World Cup 2022 in Argentina. If you have TV or access to the particular service, don't hesitate to use it.
How to Watch Qatar World Cup 2022 live stream in Argentina?
You can watch Soccer World Cup live stream in Argentina via TyC Sports Play. It is the digital streaming platform of TyC Sports and offers live and on-demand live sports, exclusive events, and 24 hours live telecast from TyC Sports Argentina.
There are various different points of access available for users to gain access to TyCSports. When getting started with streaming, Fanatiz and fuboTV are both excellent places to begin.
Second, you can watch it on DirecTV if you have that service. One of the potential options is channel 469.
Vidgo users who also have a subscription with either Fubo Latino or Fanatiz are the only ones who can access the TyC Sports channel, which features the finest of Argentine soccer and much more.
But, Those live TV streaming services can face country restriction problems in Argentina, because of Those USA-based Media streaming services. Here, ExpressVPN can help you to bypass those geo-restrictions.
Can I watch World Cup live stream free in Argentina?
TyCSports live stream service (TyC Sports Play) is free in Argentina.
If you are a new user of FuboTV, you could use its free-trial program to enjoy the service for a week.
How to watch World Cup 2022 outside of Argentina?
You may not be able to use TyCSports outside Argentina. Therefore, you need to unlock the service using VPN.
By connecting to a server of Argentina or other countries, you may be able to circumvent regional limitations and access material that you would not ordinarily be able to access from where you are. Using a VPN, you may easily gain access to the World Cup.
A VPN not only encrypts your Internet data, making it more difficult for hackers to access it, but it also prevents your Internet service provider (ISP) from tracking what you do online.
A VPN, or virtual private network, is required to utilize public Wi-Fi. Because data theft and espionage are possible when utilizing public free WiFi. Using a public WiFi network to get into your bank account is not recommended by industry experts. A virtual private network prevents hackers from accessing your network (VPN). Without a doubt, a VPN is a must-have.
Assuming that you've read the guide above, the next thing you need to do is sit back and relax when the event starts. Enjoy your time and happy watching!